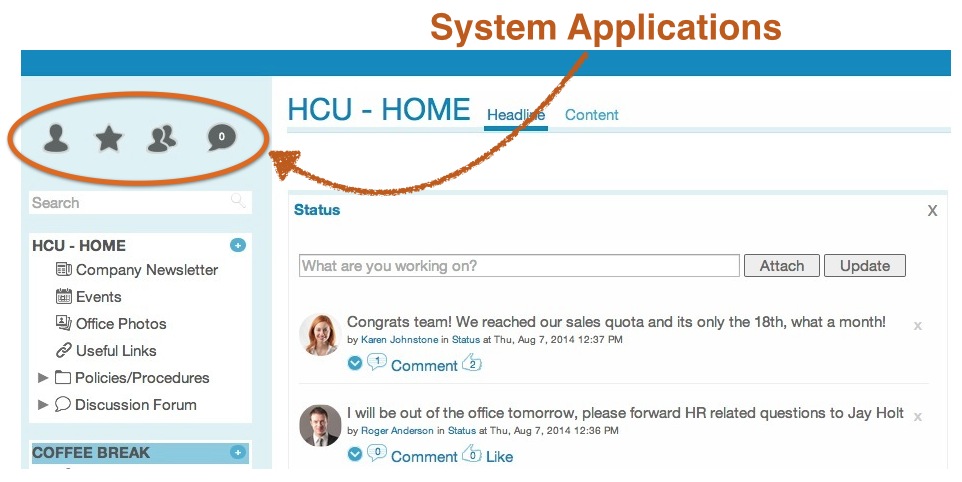 My Profile
Users can share contact information, upload a profile picture, even add a short biography. TASK: Lets take a few minutes now and update your profile. Click on the "My Profile" System App and then click the pencil icon (edit) in the top right hand corner.

What's New
Displays all content that has been recently created/modified on the intranet. Users can customize their view of What's New to filter only the content of their choice by following/subscribing to applications. Twitter-like micro-blogging is the one of the most popular features of Noodle intranet. Let others know what you're working on, ask for help, comments or suggestions, or share something interesting with your co-workers. Your status update can include hyperlinks as well as embedded photos and videos. Learn More about What's New

Company Directory
The Company Directory displays all the registered users. From here users can view other profiles, tag their co-workers, search co-workers, or easily send an email. Staff can be sorted by Expertise or by Groups to help find the right person at the right time.

Messages (Chat)

Allows co-workers to collaborate directly with each other in real time with instant messaging. Users can also embed photos and videos in their instant messages (Simply paste the image/video url in the chat box). The Messages App integrates with our other applications allowing users to send direct links to intranet content through an instant message.